Altun Ha, meaning "Rockstone Water" in Yucatec Maya language, derives its name from the nearby village of Rockstone Pond. "Haltun" signifies a stone water deposit or cistern, while "ha" translates to water. Situated in the Belize District, approximately 50 kilometers north of Belize City and just 10 kilometers west of the Caribbean Sea, Altun Ha spans an area of about 8 square kilometers. It stands as a significant ceremonial center for Mayan culture.
Altun Ha Archaeological Details
Altun Ha gained fame as the discovery site of Belize's renowned Jade Head, underlining its crucial role as a central trading link between the Caribbean coast and Maya centers in the interior during the Maya Classic Period. The site remains open year-round, offering visitors the chance to experience the weather fluctuations of each season.
Altun Ha boasts numerous exceptional features, including two main plazas and 13 structures frequented by wealthy and influential Mayans. For engineering enthusiasts, the Maya-constructed water reservoir, now a hangout for crocodiles, showcases the Mayans' innovative use of yellow clay to prevent water leakage.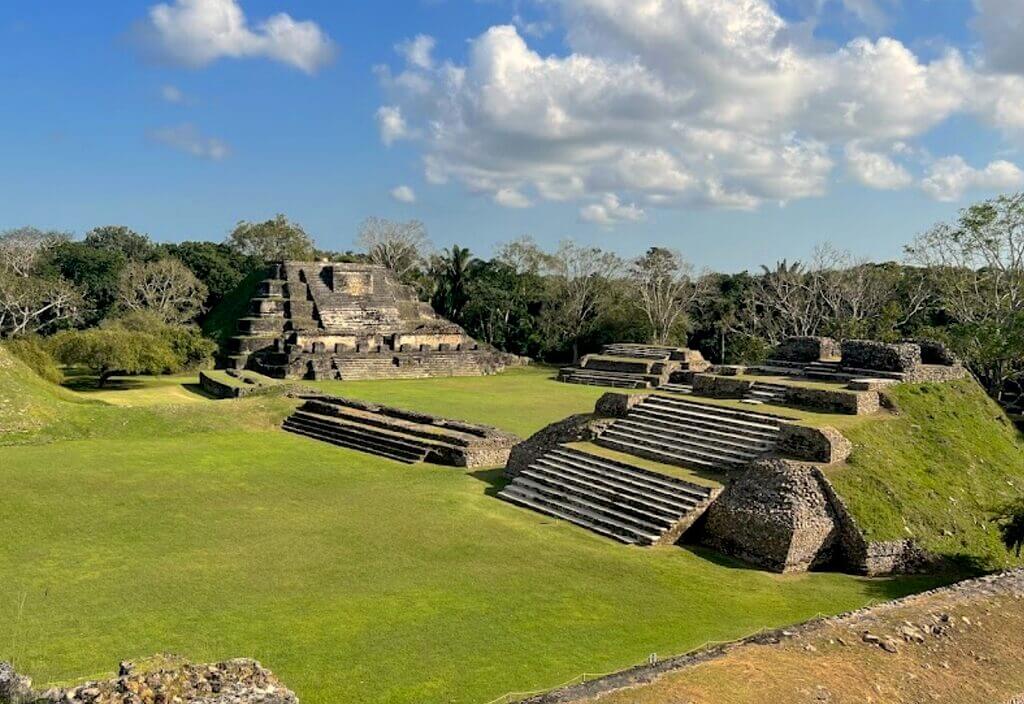 Altun Ha's history spans from the Pre-Classic period (1000 B.C. – 200 A.D.) to the Early Classic period (200-600 A.D.). While no stelae or glyphic information about rulers exists, connections with other Maya sites are evident through ceramics, architectural styles, and trade items. Many mounds on the site await excavation and restoration.
Guided tour of Altun Ha, Belize City
Visitors can explore Altun Ha without a guide, but the best experience is offered by guided tours led by expert local guides. These guides, often from Belize City or nearby villages, breathe life into the ancient temples and provide historical insights into Maya culture. Day trips to Altun Ha can be combined with other exciting adventures such as Cave Tubing, Zip Lining, or a visit to the community baboon sanctuary.
A guided tour from Belize City to Altun Ha takes approximately 4 hours round trip, covering a distance of about 50.2 kilometers (32 miles). Travelers can expect fully air-conditioned Vans or SUVs, tailored to their group size. Dress comfortably, with light clothing in the dry season and long pants in the wet season. Consider visiting in the morning for the best chance to spot wildlife.
When planning a trip to Altun Ha depending on the time you're visiting Belize, you would want to dress light in the dry season or long pants in the wet season. You Altun ha travel planning should take into consideration the time of day as the morning is best to see wildlife.
Belize City is the prime base for exploring this archaeological marvel. Discover our recommendations for accommodations and dining options in the area to complete your Altun Ha adventure.