Belize is recognized as the center of the ancient Maya world. And it was here in the "central lowlands" of western Belize and the Guatemalan Petén that the ancient Maya flourished during the Classic Period from 300 to 900 AD. Archaeologists now estimate that 2,000,000 Mayans once lived in what is now Belize.
Pyramids were erected by peasant farmers and slaves without the aid of beasts of burden or the wheel. The cities they built were inhabited by the ruling family, nobility, priesthood and warriors, while the masses lived in agricultural villages in the hinterland. The species-rich tropical forest supplied fruit, construction materials, game and medicines. Good soils for cultivation yielded corn, beans, squash and cotton. The river systems provided fish for food and transportation for trade. Extensive limestone formations supplied building blocks along with chert and flint for stone tools.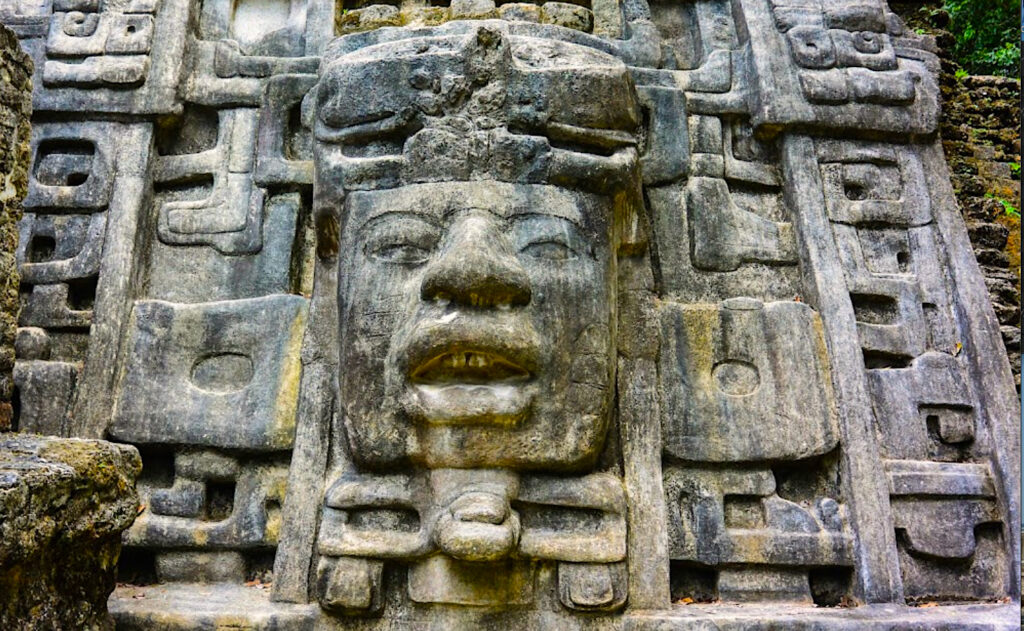 This was the environment that the Mayans adapted to their needs and way of life for a span of nearly 20 centuries during which they developed a rich cosmology, an arithmetic system that included the concept of zero, a complex calendar system based on a solid understanding of astronomy, and a system of writing which included both hieroglyphic and phonetic representation.
The Mayan Golden Age ended abruptly around 900 AD. Eventually, the crumbling cities were engulfed by the jungle and forgotten. It wasn't until the 18th century that intrepid explorers began to discover them. Modern-day archaeologists following in their footsteps have unearthed thousands of sites throughout the Mayan World and satellite photos indicate that there are many more to be discovered.
Cayo District Maya Ruins
Caracol
Caracol is the most extensive Mayan site yet discovered in Belize. It contains a massive edifice capped by three temples rising 145 feet above the jungle floor. Covering thirty square miles of thick high-canopy jungle, this Classic-period complex includes a number of pyramids, five plazas, and an astronomical observatory . Caracol is within the Chiquibul Forest where the surrounding trails are rich in tropical flora and fauna … more
Xunantunich
Xunantunich's largest pyramid, El Castillo, rises 130 feet above the main plaza and offers an impressive panoramic view of Belize's Cayo District and nearby Guatemala. El Castillo, is known for its frieze, a banded stucco decoration which at one time extended around the entire pyramid … more
El Pilar
Located outside of the village of Bullet Tree and a few miles from San Ignacio Town, El Pilar is not a ruin for the average visitor, as the site is not very well excavated, focusing rather on the vegetative areas that would have served the Maya. For Birding though, El Pilar is a must see attraction for birders visiting Cayo … more
Cahal Pech
Located atop the highest hill overlooking San Ignacio Town, Cahal Pech sits within a serene jungle-type environment, which is home to many colorful birds and exotic plants, which also makes it a good place for Birders to visit. The on-site museum is informative and contains a display of artifacts recovered by archaeologists, as well as a model reconstruction of the site.
Peten Guatemala Maya Ruins
Tikal
Less than 2 hours drive from Cayo District, Tikal, greatest of all Classic Mayan cities, presents an excellent opportunity for animal and bird watching. Along the paths, spider and howler monkeys, gray foxes and red coatis and other wildlife are common sites. The combination of archaeological remains and the natural environment of the Petén region makes Tikal the only place in the world that has been declared both a Natural and Cultural Heritage Site for Humanity … more
Yaxhá
Situated roughly midway between Tikal and Cayo, Yaxhá, sits between two beautiful lakes. The climb up many of its Temples, yields breath taking views of the surrounding area, including both the lakes and the Rio Azul that feeds them. Occupied from 600BC to 900AD, the site offers a variety of construction styles. It is famed for its organized street structure, unique to the Mayan world, and Stelae which are influenced by Mexico's Teotihuacan … more
Northern Belize Maya Ruins
Lamanai Lamanai means "submerged crocodile" in the Maya language and it is the third largest archaeological site in Belize. The Lamanai temple complex sits atop the New River Lagoon and is surrounded by pristine rain forest. A scenic 26 mile boat ride up the New River is the easiest way to get to Lamanai and the journey is as interesting as Lamanai itself and for the aware "birder" it may be especially productive for spotting some rarest and most unusual sightings Belize has to offer … more Altun Ha Altun Ha is the most extensively-excavated site in Belize and has become a favorite for cruise ship visitors to Belize. The core site includes thirteen structures clustered within two Classic period plazas. It was here that archaeologist discovered a carved jade head of Kinich Ahau, the Maya sun god. At 15cm high, it is the largest carved jade piece to be found anywhere in the Maya world. Entrance Fee – US$ 5 per person
Southern Belize Maya Ruins
Lubaantun
Entrance Fee – US$ 5 per person
Nim Li Punit
Nim Li Punit, a small Mayan archaeological site discovered in 1976 and known for it's Stelae. The site features the tallest remaining carved Stelae found to date in Belize. (Second-tallest in the Mayan world). Carvings on the tallest Stelae, shows a person wearing a very large headdress. The Maya name for the site, Nim Li Punit, translate to mean "Big Hat". Excavations so far have revealed twenty five Stelae. Stelae are stone slabs set within ceremonial centers depicting aspects of a rulers life.
* After visiting one of these southern sites some tours continue traveling south to Blue Creek Cave. Another option is to visit both ruins.
Entrance Fee – US$ 5 per person
We have made booking your Maya Ruins experience incredibly easy. You have three convenient options to choose from:
Book Online: Simply click the "Book Online" button to instantly reserve your desired tours and transfers. This option is perfect for those who have already decided on their activities and want to secure their bookings right away.
Inquire: If you have any questions or require more information before making a decision, you can use the "Inquire" button to email us directly. We're here to assist you and provide any additional details you need.
Vacation Package: Looking for a customized Belize vacation package? Click the "Vacation Package" button to get started. We'll help you create a personalized itinerary tailored to your preferences. Whether it's accommodations, tours, or transfers, we'll ensure your package is designed to make your vacation memorable.
Visit and enjoy Belize Maya Ruins with High Point Travel as part of a
Jungle & Reef Holiday Vacation Package to Belize.