Belize: Uncover Paradise in Central America, Where Adventure Meets Tranquility.
Discover Activities, Travel and Amazing Vacation Packages
For those seeking an extraordinary Belize vacation, look no further than High Point Travel. Belize, a Central American gem, has emerged as a coveted destination with its captivating charm and diverse attractions. At High Point Travel, we excel in crafting personalized vacation packages, arranging tours, transfers, and accommodations across the entire country. With our expertise and extensive resources, we ensure your Belize journey is truly exceptional.
Let us be your guiding light, helping you navigate Belize for your dream vacation or individual activities. We possess in-depth knowledge of each destination's unique allure, providing valuable insights to streamline your choices. Whether your heart desires pristine beaches, ancient ruins, lush rainforests, or vibrant cultural experiences, we offer personalized recommendations tailored to your interests, travel style, and desired activities.
Understanding the diversity of preferences, we present a plethora of destination options within Belize. Be it coastal getaways such as Ambergris Caye or Placencia, cultural immersion in San Ignacio or Hopkins, or remote adventures in the Cayo District, we have the flexibility to customize your itinerary to your chosen destinations.
For those not seeking a full itinerary, we readily arrange individual tours, transfers, and accommodations separately. And the best part? No hidden fees, ever. Our mission is to assist you seamlessly, leaving room for spur-of-the-moment changes and ensuring a hassle-free planning process. Book with High Point Travel, your gateway to a Belizean adventure filled with endless possibilities.
Ready to turn your virtual exploration into a real-life adventure? High Point Travel Team is here to help you plan your dream vacation in Belize. From personalized itineraries to indivual tour or transfer booking our team is here.
Uncover Paradise's Secrets, Where Adventure Meets Tranquility.
Discover Belize's Coastal Wonders
Fly-Fishing, Diving, and Snorkeling Excellence
At our company, we believe in giving you the very best fishing, diving, and snorkeling adventures in Belize. Our expert guides will lead you to the most beautiful spots, where you can experience these exciting activities and see the incredible marine life that lives in Belize's crystal-clear waters. We are dedicated to making your adventure truly unforgettable.
Island Hopping, Sailing, and Sunset Cruising
Discover the incredible coastal beauty of our country through our island hopping, sailing, and sunset cruising adventures. Glide along the mesmerizing coastline, explore charming islands, and gaze upon awe-inspiring sunsets that fill the sky with brilliant colors. Allow us to craft lasting memories as you submerge yourself in the tranquility of Belize's coastal paradise.
Uncover Paradise's Adventure and Tranquility.
Inland Adventures - Maya Ruins, Caves, and More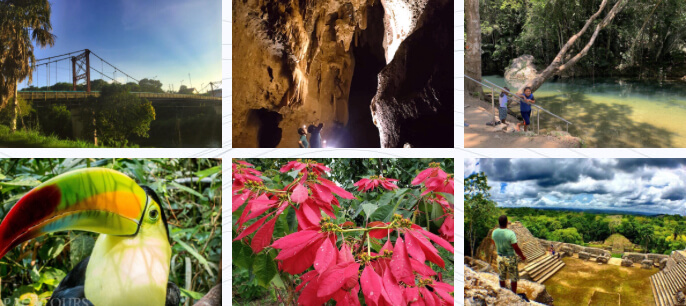 Step into the adventure with High Point Travel as we take you on an incredible journey through Belize's amazing landscapes and history. Our captivating inland tours will immerse you in the heart of this beautiful country.
Explore the ancient Maya ruins and trace the footsteps of an ancient civilization. Venture deep into mystical caves, unlocking the secrets they hold. Feel the adrenaline rush as you zip through the treetops on thrilling zip lines. Or, relax and enjoy a Waterfall or the exhilaration of floating down a river or tubing through cave passages.
Discover the natural beauty of Belize as you encounter its vibrant flora and fauna in the wild jungles. Join us in uncovering the wonders of this enchanting land.
Let's Plan a Trip to Belize
High Point Tavel
Experience the Ultimate Belize Vacation with High Point Travel: Your Best Time to Explore and Discover.
We understand that your vacation time is precious. Our expert team takes care of every detail, ensuring a seamless travel experience for your Belize vacation. From crafting personalized itineraries to securing accommodations that perfectly cater to your preferences, we have you covered.
Let us be your trusted guide to the wonders of Belize, as we curate vacation packages tailored to your interests. Alternatively, you can choose to book each activity separately, giving you the flexibility to create your dream itinerary. Whether you're seeking adrenaline-pumping adventures, serene beach getaways, or immersive cultural experiences, we have the perfect options waiting for you.
Book with Confidence: High Point Travel prioritizes your safety and peace of mind. Rest assured that we adhere to strict health and safety guidelines, ensuring a worry-free vacation experience.
Join us on a journey that will captivate your senses and create memories to last a lifetime. Let us be your passport to the best of Belize.
Contact us today to start planning your dream vacation or to book tours and transfers that will enhance your Belize experience..