Discovering Actun Tunichil Muknal: A Journey into the ATM Cave
Discover the wonders of Actun Tunichil Muknal (ATM) Cave, a captivating destination that ranks as the top attraction in Belize. Located in the Tapir Mountain Nature Reserve of the Cayo District, this archaeological and nature tour promises an unforgettable experience, even for those with claustrophobia.
Sacred Cave with Historical Significance
Renowned for its historical and cultural significance, the ATM Cave has been documented and recognized as a sacred site by National Geographic. High Point Travel and its partnered Tour Operators, with their specially licensed guides led by Oscar, has been at the forefront of guiding visitors through this extraordinary cave. Collaborating with international and Belizean archaeologists, they have deepened their understanding of the cave's mysteries.
A Natural Museum of Spectacular Formations
Beyond its historical importance, the ATM Cave offers breathtaking natural beauty. Journey through this underground marvel to witness awe-inspiring rock formations, including crystalline stalactites and stalagmites. The vast Cathedral-like chamber within the cave will leave you in awe. As you explore, you'll come across skeletons and ancient Mayan artifacts, tangible remnants of the cave's ceremonial and sacrificial purposes. Some of these relics lie just inches away, with undiscovered artifacts waiting to be uncovered.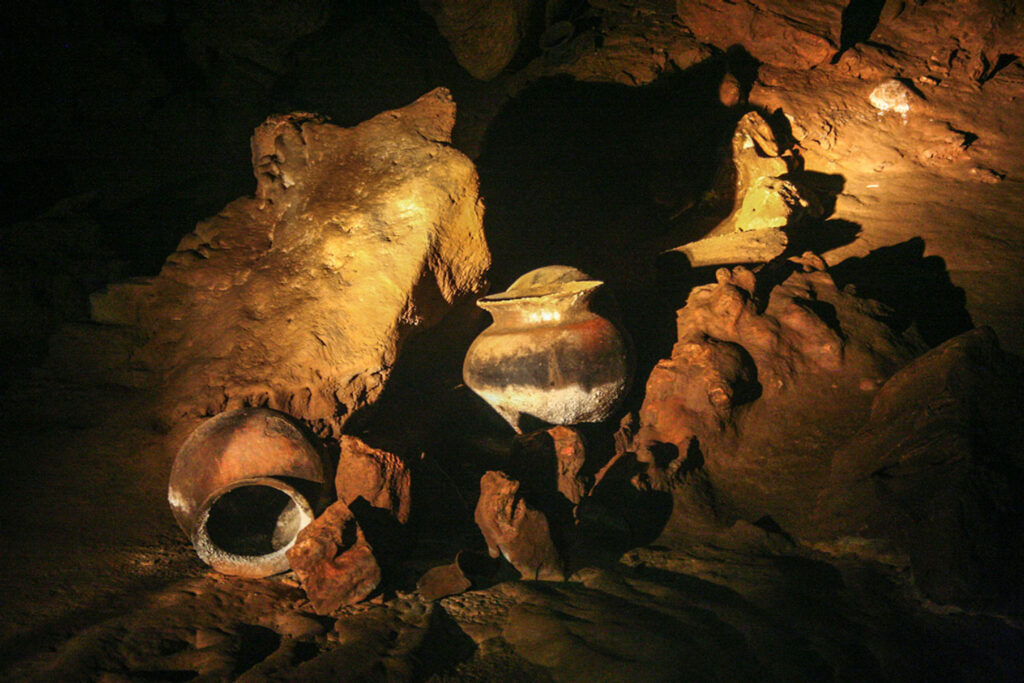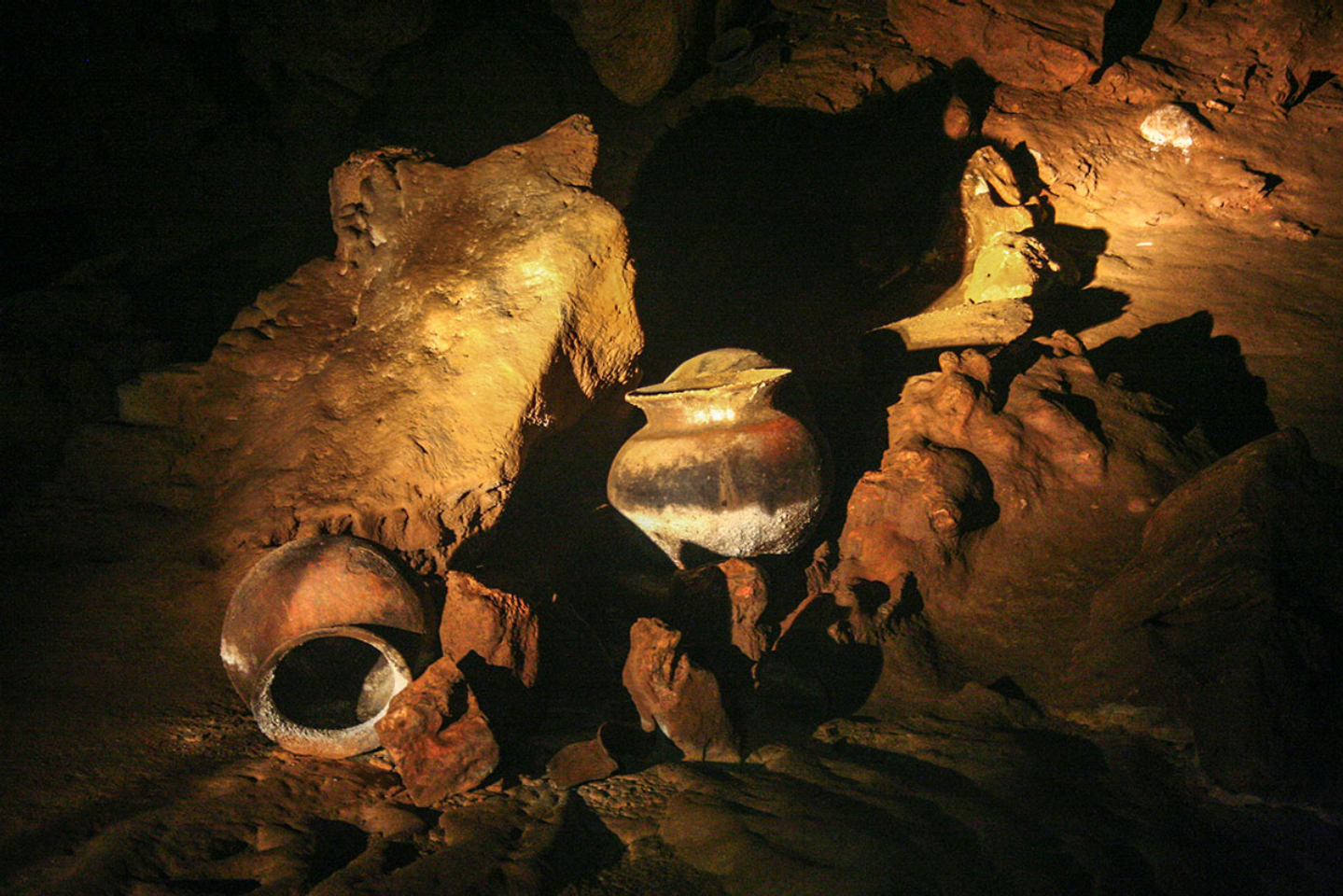 Among the notable highlights of the ATM Cave is the calcified skeletal remains of a young man, famously known as the Crystal Maiden. This enigmatic sight adds an extra layer of fascination to the cave's allure.
Logistics and Practical Information
To ensure a seamless and rewarding experience, here's what you need to know before embarking on the ATM Cave Tour:
Duration: The duration of the tour varies among operators. With High Point Travel, the journey begins at 8:30 AM from San Ignacio and concludes at 4 PM. You'll spend approximately 3.5 hours exploring inside the cave. Please note that the tour is subject to cancellation in case of flooding.
Expert Guidance: Your guide, Oscar Carbajal, possesses over 23 years of experience and specializes in the ATM Tour. Oscar's expertise, combined with his friendly demeanor and captivating storytelling, enhances the entire cave experience.
Water Crossings and Climbing: Be prepared for three river crossings, including one with chest-high water for an average height of 5 foot 6 inches. Initially, you'll swim doggy-paddle for about 30 feet, wearing a life jacket and shoes. Once inside the cave, you'll navigate over and through rocks, necessitating sturdy footwear. Our guide will provide clear instructions to ensure your safety throughout the journey.
What to Bring: Essential items to bring include an extra set of dry clothing, a pair of socks, and a towel. Wear hiking or water shoes with good traction due to slippery rocks in the creeks. Dress comfortably in shorts and a T-shirt, and carry a change of clothes for the return journey. Bring bug spray as we'll be in the jungle. For responsible travel, avoid single-use plastic, and leave personal and travel documents at your accommodation.
ATM Cave Tour from Other Destinations
If you're traveling from Placencia or Hopkins, you can arrange to meet at Teakettle Village by the ATM Sign, or High Point Travel can organize transportation to and from these locations. For visitors staying in San Pedro or Caye Caulker, take the earliest water taxi to Belize City, where transportation will be waiting to take you to Teakettle Village to meet our guide at 8:45 AM.
Experience the Enchantment of ATM Cave
Embark on an epic adventure into the Mayan underworld with the Actun Tunichil Muknal (ATM) Cave Tour. From its historical and cultural significance to its awe-inspiring formations and captivating artifacts, this tour offers an unmatched exploration of Belize's hidden treasures. 
Book your journey today and create memories that will last a lifetime.
Note: Cameras are not permitted inside the ATM Cave, but you can request photos of your epic Belize Adventure from High Point Travel.
Actun Tunichil Muknal is not just a cave, but a window into the rich history and culture of Belize. By respecting and preserving this natural wonder, we can continue to learn from and appreciate the legacy of the ancient Maya civilization. Embarking on the ATM Cave Tour with responsible tourism practices allows us to contribute positively to Belize's tourism industry and preserve its natural beauty for future generations to explore and cherish. Experience the enchantment of ATM Cave firsthand and embark on an unforgettable journey that will leave you in awe of Belize's hidden treasures.