Belize: Uncover Paradise in Central America, Where Adventure Meets Tranquility.
Discover Activities, Travel and Amazing Vacation Packages
For those seeking an extraordinary vacation in Belize, this Central American gem has risen to prominence as a highly sought-after destination. Offering captivating charm and a multitude of diverse attractions, Belize promises an unforgettable experience. At High Point Travel, we specialize in curating personalized vacation packages, as well as arranging individual tours, transfers, and accommodations throughout the entire country. With our expertise and abundant resources, we ensure that your journey through Belize is nothing short of incredible.
Let us be your guide as we help you decide where to go in Belize for your dream vacation or booking individual activities. We are well-versed in the unique characteristics of each destination and can provide valuable insights to help you narrow down your options. Whether you're seeking pristine beaches, ancient ruins, lush rainforests, or vibrant cultural experiences, we can offer personalized recommendations based on your interests, travel style, and desired activities.
We understand that preferences can vary, and that's why we offer a wide range of destination options within Belize. Whether you're interested in coastal getaways like Ambergris Caye or Placencia, cultural experiences in San Ignacio or Hopkins, or remote adventures in the Cayo District, we have the flexibility to tailor your itinerary to your desired destinations.
Not looking for a full itinerary, we can arrange tours, transfers, and accommodation separately as well.
Ready to turn your virtual exploration into a real-life adventure? High Point Travel Team is here to help you plan your dream vacation in Belize. From personalized itineraries to indivual tour or transfer booking our team is here.
Uncover Paradise's Secrets, Where Adventure Meets Tranquility.
Discover Belize's Coastal Wonders
Fly-Fishing, Diving, and Snorkeling Excellence
We pride ourselves on offering the ultimate fishing, diving, and snorkeling adventures in Belize. With the best guides in the business, we take you to the most pristine locations where you can indulge in these thrilling activities and witness the mesmerizing marine life that inhabits Belize's crystal-clear waters.
Island Hopping, Sailing, and Sunset Cruising
Experience the coastal wonders of the country with our island hopping, sailing, and sunset cruising excursions. Sail along the stunning coastline, visit picturesque islands, and witness breathtaking sunsets that paint the sky with vibrant hues. Let us create unforgettable moments as you immerse yourself in the serenity of Belize's coastal paradise.
Uncover Paradise's Adventure and Tranquility.
Inland Adventures - Maya Ruins, Caves, and More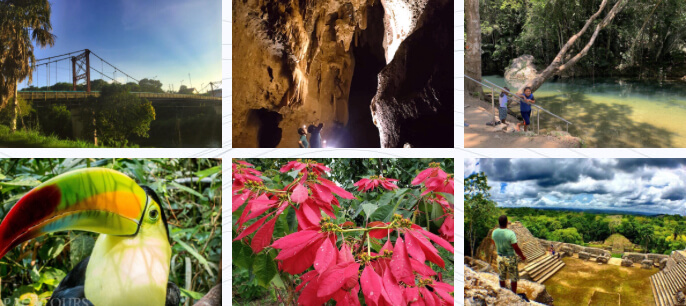 High Point Travel offers captivating inland tours to Maya ruins, caves, zip lines, river or cave tubing, waterfalls, and lush jungles. Delve into Belize's rich history as you explore ancient Maya ruins, venture into mystical caves, soar through the treetops on thrilling zip lines, and indulge in the exhilaration of river or cave tubing. Discover the wonders of Belize's flora and fauna firsthand in its untamed jungles.
Let's Plan a Trip to Belize
High Point Tavel
Experience the Ultimate Belize Vacation with High Point Travel: Your Best Time to Explore and Discover.
We understand that your vacation time is precious. Our expert team takes care of every detail, ensuring a seamless travel experience for your Belize vacation. From crafting personalized itineraries to securing accommodations that perfectly cater to your preferences, we have you covered.
Let us be your trusted guide to the wonders of Belize, as we curate vacation packages tailored to your interests. Alternatively, you can choose to book each activity separately, giving you the flexibility to create your dream itinerary. Whether you're seeking adrenaline-pumping adventures, serene beach getaways, or immersive cultural experiences, we have the perfect options waiting for you.
Book with Confidence: High Point Travel prioritizes your safety and peace of mind. Rest assured that we adhere to strict health and safety guidelines, ensuring a worry-free vacation experience.
Join us on a journey that will captivate your senses and create memories to last a lifetime. Let us be your passport to the best of Belize.
Contact us today to start planning your dream vacation or to book tours and transfers that will enhance your Belize experience..