Luba Hati Beach Resort was designed for those who treasure the natural beauty of the Caribbean Sea and the native tropical vegetation. Wind-swept palms provide the perfect shade for a nap in the sand. A cacophony of songbirds greets you in the morning while the breeze off the Sea lulls you to sleep at night.
Luba Hati Pier At Luba Hati you become a part of nature while taking advantage of first-class service, amenities, and cuisine. Come to the tropics and enjoy yourself.
Luba Hati is a picture-perfect spot for weddings or any kind of group retreat. Your party can reserve the entire resort for an exclusive and private function. They have hosted instructors for yoga, Qigong, Tai Chi, and dance workshops, as well as customized wedding ceremonies and receptions. The second-floor covered verandah overlooks the Caribbean on one side and a full tropical garden on the other side, offering a dream-like ambiance in which to gather.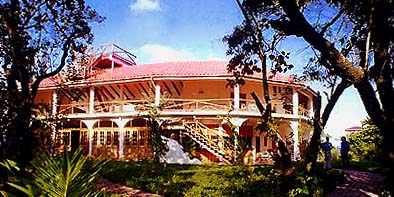 Staff arranged a variety of activities including SCUBA trips and certification, snorkeling, bird-watching trips, fishing, visits to ancient Mayan cities, and much more.
What Happen to Luba Hati
Luba Hati has been closed for serval years now. It is without a thought Luba Hati and the people who owned and worked at the resort contributed greatly to the tourism development of the Placencia Peninsula. The once-great resort property was located between Roberts Grove and what is known as Itz'ana Resort, Seine Bight is a village two and a half miles (2.5 miles) from Maya Beach.
Why Placencia Peninsula
The Placencia Peninsula has long advanced and grown into a popular tourism destination. With the lagoon to the west and the Caribbean Sea to the east, Placencia is a place to have the best of both an inland and a coastal destination; with access to many Maya ruins, waterfalls and caves, and Fishing Snorkeling and Diving, there is no shortage of thing to do when staying in any area of the peninsula.
Belize overall has developed its tourism industry and is increasingly attracting visitors to its shores and inland destinations. Let highpointtravel.bz guide you in planning a trip to Belize.